A World-Class Education:
Our Internet-based sales management and marketing management simulations are designed to provide students with the opportunity to develop higher-level skill sets while reinforcing course content. These higher-level skill sets include: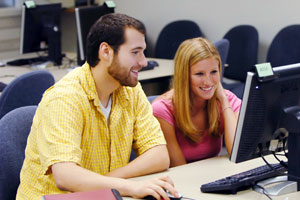 Problem Identification
Problem Solving
Analytical Analysis
Decision Making

Students develop higher level skills
In addition to repeatedly reinforcing course content, our simulations make students more receptive to marketing courses by giving them a contextual background that allows them to understand the relevance of course concepts.
With World-Class Customer Support:
To have value, a quality product must be backed up by quality customer care. In that light, we eliminated troublesome compatibility issues by housing our simulations on the Internet. We made them extremely simple to administer. And we are always available to help our family of adopters. We do everything in our power to insure a smooth transition to our simulations, and a very positive educational experience for both professor and student.
To Learn More:
To learn more about our MARS simulations follow the "learn more" tab at the top of this page. Be sure to check out our multi-media presentations on the pedagogical benefits of using simulations in general, and MARS simulations in particular.
To Obtain Password Access:
Professors may obtain password access to our simulations by sending an email to Dr. Robert W. Cook at robert.cook@shootformars.com. A password will give professors access to the simulation manuals, demonstration simulations for review, and the platform for running simulations upon adoption.
Students may only obtain password access after their professors have created a simulation, and provided them with registration instructions.
Sample Reports:
Click on a thumbnail image to bring up a full sized view.